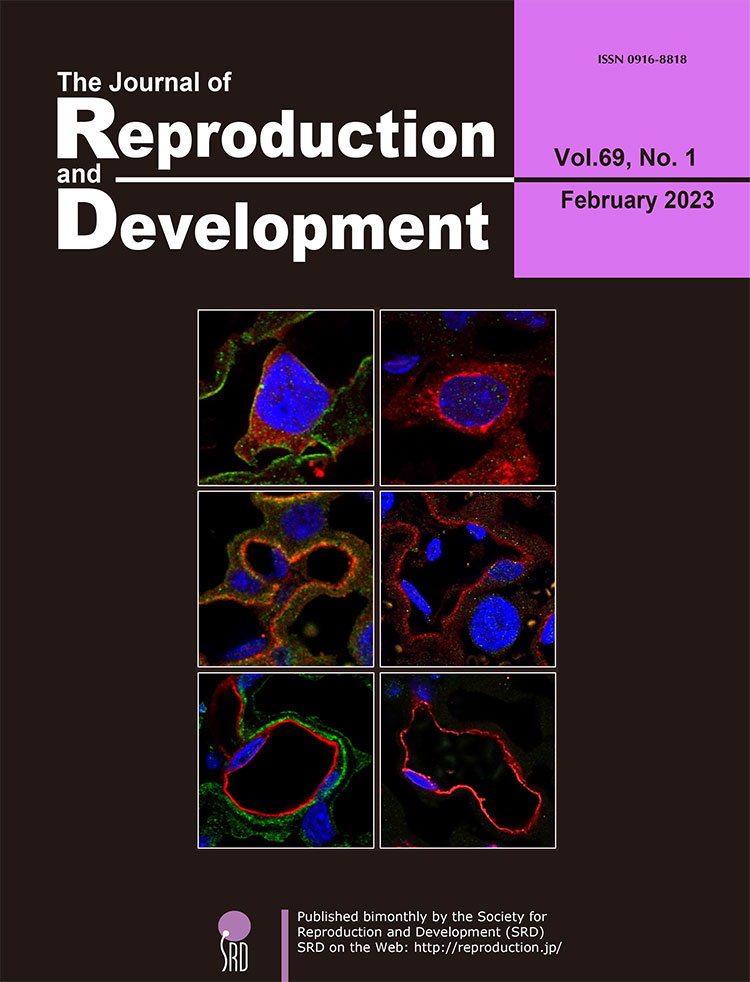 Aims and Scope
The Journal of Reproduction and Development (JRD) is an international, peer-reviewed Open Access publication, and the official journal of the Society for Reproduction and Development. In six issues per year, JRD publishes basic studies of reproductive biology in vertebrates, including gametogenesis, early embryonic development, placenta development, implantation, reproductive endocrine function and reproductive organ development. JRD also welcomes applied and clinical studies that contribute to the control of reproduction in wild, domestic and laboratory animals, and to the development of new technology to address issues in the field of reproduction. Human clinical case reports are not published by the journal.
Editor's picks
Cover Story:
Nik-related protein kinase (Nrk) is an X-linked gene encoding a serine/threonine kinase belonging to GCK group 4. Nrk-knockout (Nrk-KO) mice exhibit delayed delivery. However, the mechanism of delayed labor remains largely unknown. Yomogita et al. found that serum progesterone (P4) and placental lactogen (PL-2) concentrations during late pregnancy were higher in pregnant females with Nrk-KO conceptus than in wildtype females (Yomogita et al. A possible function of Nik-related kinase in labyrinth layer of mouse placentas of delayed delivery. pp 32–40). These findings suggest that Nrk-KO mice exhibit delayed delivery due to the increase in P4 concentrations because of PL-2 hypersecretion. Moreover, Nrk was expressed in trophoblast giant cells and syncytiotrophoblast-2 (SynT-2) in the labyrinth layer of the mouse placenta. In the human placenta, NRK is expressed in Syn-T of villi. Similar to mouse Nrk, human NRK may significantly affect placentation in evolutionary biology.
JRD Information
Impact factor 2.215 (July 2022)
Most cited article published in 2018-2019
Mancozeb impairs the ultrastructure of mouse granulosa cells in a dose-dependent manner. Palmerini MG et al., vol 64, 75-82 (2018).
Most viewed article in Feb 2023 (J-STAGE)
Time-lapse monitoring technologies for the selection of bovine in vitrofertilized embryos with high implantation potential. Magata, F. Article ID: 2022-131 (2023)
Views: 173

JRD Outstanding Paper Award in 2021 Congratulations!




Reestablishment of transzonal projections and growth of bovine oocytes in vitro. Fushii et al., vol. 67(5): 300–306 (2021).
Oocyte-specific gene knockdown by intronic artificial microRNAs driven by Zp3 transcription in mice. Sasaki et al., vol. 67(3): 229–234 (2021).
Maintenance of mouse trophoblast stem cells in KSR-based medium allows conventional 3D culture. Sun et al., 67(3): 197–205 (2021).
Differentially methylated CpG sites related to fertility in Japanese Black bull spermatozoa: epigenetic biomarker candidates to predict sire conception rate. Takeda et al., 67(2): 99–107 (2021).
Current Issue

Vol. 69
Issue 1 2023
Review

Original Articles

Technology Report

Removal of sperm tail using trypsin and pre-activation of oocyte facilitates intracytoplasmic sperm injection in mice and rats

Kohei TORIKAI, Kazuma SHIMIZU, Hiroaki NAGATOMO, Mariko KASAI, Megumi KATO-ITOH, Yuko KAMADA, Ikue SHIBASAKI, Hyojung JEON, Riko KIKUCHI, Sayaka WAKAYAMA, Fabian SUCHY, Hiromitsu NAKAUCHI, Teruhiko WAKAYAMA, Eiji MIZUTANI

J Reprod Dev. 2023 Feb; 69(1): 48–52. Published online 2022 Dec 16. doi: 10.1262/jrd.2022-065

PDF